Oil. Greases. Lubricants. Coolants.
Protecting and optimizing the machines that keep our country moving by offering over 4,500 products for a variety of industry sectors ranging from automotive to aviation.
Why SCL?
Product and Industry Knowledge. Superior Logistics. Performance Satisfaction.

Products & Services
We supply a wide range of industries and offer additional services so that your business and machines perform.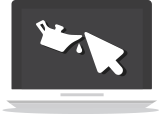 Order With Confidence
A team of experts available to help you find the right products according to your needs.

Pick-Up or Delivery
We give you the option: pick up at one of our many warehouses, or have it delivered when and where you need it.